Audiotrix Artists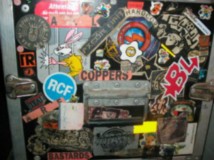 4Q
A simple story of a Cheesy Quaver (raver)who ran away from the city to live with the travellers.


Started playing music and scratching on the decks at his home with two belt drive decks and a made to fade mixer, playing early HipHop and Acid House Music.

After the birth of raving and jungle tekno music 4Q was hooked for life.

The early 90s brought a fusion of rave and travellers together at massive festivals, 4Q packed his bags, decks and hit the road.
As main DJ and first Live set from Total Resistance Sound System he went on to become a crucial part of Sound Conspiracy and a key member of their epic roadtrip to India.

Over 15 years later 4Q is still bringing us his unique sound of rave infused breakbeats .