Audiotrix Artists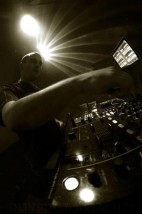 Bomba Flex
Born and raised in Roanne just a few km from Lyon (FR) , brought to us via the tekno rave movement of the 90'S, rocked by Acid house and tribal techno sounds.

Bomba Flex is a DJ and producer who has been at the forefront of the French minimal techno scene, playing at gigs all over France for over 10 years now.

As a DJ he has a very eclectic style, always bringing something extra to a party, mixing Deep Tech House with Tribal and Vintage techno sounds.
His wild selection,technical skills and energetic style make his every set a memorable dancefloor moment.

He loves to collaborate with other artists and his productions can be found on many different labels , his remix of Doublscotch's "Klip Town" will be out very soon on Audiotrix Digital.
Track list