Audiotrix Artists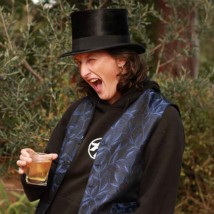 Lady Fizz
After years spent at the core of the techno underground serving up slamming beats, Ixindamix found herself in a little bit of a quandary. A strange feeling had been brewing in her audio synapses and it seemed to be heavily laced with swing.
It felt so, so wrong and yet somehow so right. After an increasingly drastic identity crisis really began to get out of hand, she finally bit the Balkan bullet and came steaming out of the closet. There was no more denying it. She now had an alter ego. Bonjour Lady Fizz.

But she hadn't totally changed. No – she took one look at the sultry and delicate swing grooves and thought to herself – this needs a bit more ooomph. From that moment on she dedicated herself to tracking down the most banging grooves in all the most disreputable sonic speakeasies. Tweaking them up to her exacting standards and hurling them into the live cocktail shaker with a secret recipe of home brewed moonshine beats, she will be hitting a club near you very, very soon.
Track list