Audiotrix Artists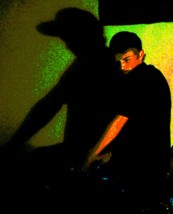 Max Volume
Max Volume attended his first Rave at 2 weeks old having been born on the road with infamous sound system crew Spiral Tribe. Constantly submerged in the party culture and surrounded by music from day one as both his parents were DJ'S , he has developed a natural flair for both selecting and mixing up dancefloor killers.

After a 2 year apprenticeship at Noise Control Audio where he gained an in-depth knowledge of how sound systems work, he was ready to set off on tour. After warming up at the legendary 2000 people Audiotrix party at Terre Blanque he rapidly slotted into the Audiotrix D.J crew where his natural energy behind the decks and dazzling ability to radiate pure party vibes left a trail of packed dancefloors and a flourishing reputation in the European underground.

Rocking the Full Vibes festival and the Cross Club in Prague alike led to a 3 week tour of Italy and Sicily where he proceeded to do further dancefloor damage and developed his own intensely individual style , an intoxicating blend of the deep, the pumping, the thumping and the all out jumping.

Now hard at work in the studio honing his unique sound for a forthcoming string of releases, he is set to take the international rave scene by storm - wotch yer bass bins!